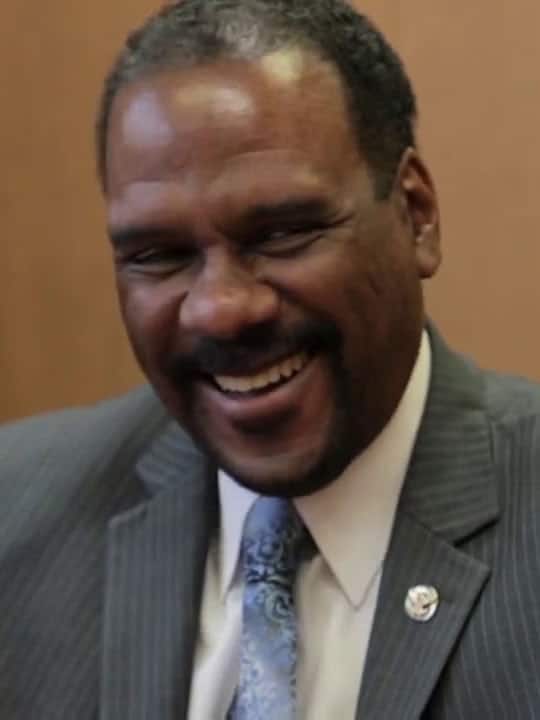 Reverend Alvin Love, Pastor
work: 1-773-785-8623
Email: Pastor@Lilydalefirstbaptist.org
Skype: Alvin Love
Facebook: https://www.facebook.com/revluv
Twitter: @RevluvLove
Instagram: revluv
BIOGRAPHICAL SKETCH
The Reverend Alvin Love
Alvin Love is the oldest of five children born to Abner and Katie Love. He spent his childhood living in Chicago, his birthplace, and Kemper Springs, Miss., where he was baptized at Union Baptist Church. In 1968, his family joined Shiloh Baptist Church in Chicago under the pastorate of Rev. C.J. Brooks. Pastor Love accepted the Lord's call to the Gospel ministry in 1975, received his license the next year and was ordained in 1980.
During his membership at Shiloh, he met Carolyn Knowlton, whom he married in 1976. Four years later, they welcomed their son, Brandon. An alumnus of Chicago's Lindblom Technical High School, Pastor Love completed his degrees in psychology and theology at Trinity Christian College in Palos Heights, Ill., graduating cum laude in 1982.
In 1983, the Lord led Pastor Love to Lilydale First Baptist Church as its tenth pastor. He has served in that office faithfully for 35 years. Under his stewardship, Lilydale has enjoyed substantial spiritual growth, specifically in missions and Christian education. Some highlights of his 40 years in ministry include:
President of Baptist General State Convention of Illinois, Inc.
Moderator of Greater New Era Baptist District Association of Chicago
Chair of the National Baptist Convention, U.S.A., Inc.'s TOPIC Ministry
President of Developing Communities Project
Trustee of Trinity Christian College
Chair, Chicago

 

PEACE
White House Liaison for National Baptist Convention, USA, Inc.
Director of Faith Based Initiatives and NBCUSA Foundation
Faith Based Advisor to President Barack Obama
Pastor Love is a frequent lecturer at seminars, Christian education forums, college events and church revivals across the United States. He has preached at Madison Square Garden in New York City, the Georgia Dome in Atlanta and Cobo Hall in Detroit. He has also represented the National Baptist Convention, USA in Geneva, Switzerland, Rome, Italy, Nairobi, Kenya, Johannesburg, South Africa, Maputo, Mozambique and Blantyre, Malawi.
Most notably, Pastor Love is a man who loves God and the people of God, "not willing that any should perish, but that all should come to repentance."